Planning a Halloween Party this year, or just want some fun ideas to do with your family or child's school class. Here are some fun ideas we found.
Mummy Bowling
A new twist on an old favorite
Crystal Ball Bowl
Fortune-telling is all the more fun with this bowl of mystery at hand. Write several fortunes so each guest can take one home.

Crystal Ball and Mummy Bowling-
HERE
Witch's Hat Ring Toss

Take 2 or more witches hats and place a challenging distance from the throw line. Kids try to toss the most rings on the hats. Several variations and game options.

Witches Hat
Here
Pass the Pumpkin
This game is a variation on "hot potato". Seat the kids on the floor in a circle. Give them a small pumpkin to pass around. Play Halloween party music as they pass the pumpkin, and periodically stop the music. Whoever is holding the pumpkin is out. The game continues until one person is left with the pumpkin.
Halloween Freeze Dance
Play Halloween party music or creepy sound effects and tell the children to dance. When you turn off the music, they all need to freeze. Whoever is caught moving during the freeze is out of the game. The last person dancing, wins.
Wrap the Mummy
Divide the children into groups of three to five kids. Select one child in each group to be a mummy. Then give the other children a roll of toilet paper or crepe paper. Instruct them to wrap the mummy with the paper, leaving the eyes, nose and mouth uncovered. The first group to be done with their roll of paper, wins.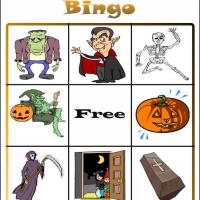 Click
Here
to Go to Free Printables
Crafts

Spider Pop-
HERE
I just LOVE the Boo-ffet!!

Homemade Root Beer-
HERE
Party Favors

Link to
Martha Stewart Brooms
Here
is the link.
Link to
Goody Cone